MAD Veronique is honoured to have been nominated.
Kudos & Congrats to this year's winners!

Veronique Chevalier, aka The "Weird Val" of Dark Cabaret, is a woman of many hats. Literally, as well as figuratively. She's an Entertainer/MC/Panelist who's plied her trade at Steampunk & Comic Book events the width and breadth of the US.
A self-proclaimed "Mad Sonictist", she's gained notoriety for her parodies on the theme of Steam, & she roguishly appropriates the tune-age of everyone from The Beatles to Thomas Dolby.
MAD Veronique also holds the dubious distinction of originating Gothic Polka, with her recording "Polka Haunt Us: A Spook-tacular Compilation" which was an Official Selection on the 51st Annual Grammy Ballot.
She shall soon be releasing a book based on her wildly popular panel, entitled "Steampunk As A SUPER-culture: Symbiosis Between Various Subcultures & Fandoms"; and she was also the 2012 Recipient of The Steampunk Chronicle Readers Choice Award for "Best Dressed Female Steampunk".
Her certain je ne sais quoi is attributable to having been born an only child in France, to a fashion-forward Parisian mother, and a Lithuanian-American broadcast journalist father. Her full-blown MAD-emoiselleness is most likely the result of having grown up whilst traversing the globe with her parents, where she attended 13 different schools in as many different geographical locales.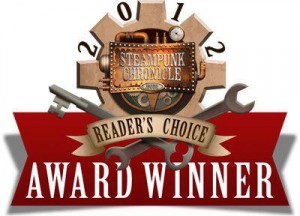 MAD Veronique was named
Best Dressed Steampunk Female 2012